Body Cameras – Not just for the police anymore.
By David Strickland, Vice President of Kenton Brothers
In the news lately, there is a lot of talk about body cameras for police. There are a lot of positive reasons people are having these discussions.
90% reduction in complaints against officers
50% higher conviction rate when used in arrests
Higher evidence capture rate at crime and accident scenes
Passive documentation of real time events
These are very powerful reasons why body cameras work. Have you ever thought about how they can be used effectively in other types of businesses and security scenarios?

Improved safety in warehouse and logistic environments
Some companies are requiring Fork lift drivers and stacker drivers to wear cameras. And they have had great success:
Reduced accidents
Identifying Training opportunities
Recognition of safety enhancements needed such as lights or pathways marked on ground
Identification of Pallet Construction flaws
GEO location of Operators in large spaces
Technician / Electrician apprentice training
Some companies are utilizing body cameras to review technician work in the field to ensure accuracy of work compared to company specs.
This has improved output in the following ways:
Reduced call backs on new technicians
Increase in Productivity
Clearly identifies training opportunities
Ensures compliance with lock out tag out procedures
Increased safety and production in Manufacturing facilities
Passively captures evidence from the workers perspective of the manufacturing process
Identifies hidden areas of safety concern
Facilitates training opportunities
Identifies inefficiencies in the current processes
At Kenton Brothers Systems for Security, we are proud to offer body worn cameras manufactured by our premier commercial video surveillance manufacturer Axis Communications.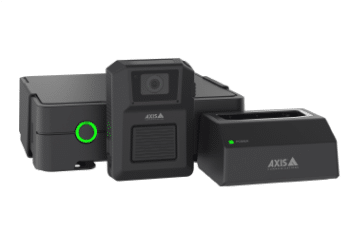 The Axis camera solution offers several benefits:
Easy integration with any VMS, EMS
Flexible and scalable
Fast reliable video and data offloading
Meets the highest government cybersecurity standards
End-to-end encryption
 "The same level of thoroughness has been applied throughout the solution, not just the camera unit. We took a holistic view of the customer requirement, from video capture in the field to presentation of evidence in the courtroom. This is where the openness became imperative – customers didn't want to be forced into a specific VMS and EMS – and also drove key aspects related to security and ensuring the integrity of evidence."
Axis Body Worn Camera System
The new Axis body worn camera system features three main hardware components: the camera itself; the camera docking station (8-bay or 1-bay); and the system controller.
This camera captures video up to 1080p @30fps and audio through dual microphones for noise suppression capabilities. Wide dynamic range technology is employed to guarantee image quality in even the most challenging light conditions, while Axis Zipstream for body worn reduces the demands for storage. Battery power is designed to cover a 'full shift', with 12 hours of normal usage and the capability for charging in-car or from a power bank.
The docking station and the system controller are separate units. The system is scalable for large and cost-efficient body worn systems. The system controller provides a single integration and management point, and allows for fast and reliable video offloading (100Mbit per camera). All data is encrypted both at rest and in transfer using AES256 and TLS. In addition, video data can be fully end-to-end encrypted with specific integrations.
The camera also features built-in:
GPS/GNSS receiver for location tracking
Bluetooth Low Energy 4.1
IEEE 802.11b/g/n
6-axis gyro and accelerometer
The Axis Body Worn Assistant mobile application allows users to review footage and add categories, descriptions and notes. The applications for this technology are endless.
We are very excited to offer this solution to our customers! Would you like to know more about the Axis Body Worn Camera Solution? Give us a call!
https://kentonbrothers.com/wp-content/uploads/2020/07/Kenton-Brothers_Body-Cameras-01featured.jpg
425
550
David Strickland
https://kentonbrothers.com/wp-content/uploads/2022/04/125th-Anniversary-v1.png
David Strickland
2020-07-29 06:00:45
2021-05-19 15:39:30
Body Cameras – Not just for the police anymore.