The Return-to-Work Wellness System
By Neal Bellamy, IT Director at Kenton Brothers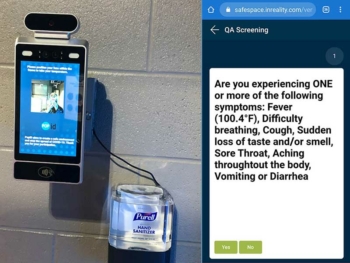 Facial Recognition + Pre-Screening = Safe Spaces
For the last 10 months, we have been asked about Covid-19 related solutions. KB offers both hands free physical security offerings as well as technology based solutions. We all agree that the same people who want a secure building also want a safe building. We've covered several of those solutions, but most of them lack reporting or detailed data about the results of their effectiveness. However, two high-tech teams have worked together to provide just that. I'd like to introduce you to InReality and PopID….who have created an easy to use return to work wellness system.
InReality
InReality is a company that uses data to show reports and trends for any sensor data that can be obtained. They leverage those skills to make our workplaces safer.
They're offering a Safe Spaces solution where a pre-screening questionnaire (or several versions) can be used by employees, sent to visitors, or displayed on-site. The questionnaire can be customized and designed around your company's needs. After pre-screening, the user gets a Go/No-Go answer.
Addition information can be provided to the user and alerts can be sent to HR. For an employee, the result is, by default, saved and linked to the employee for contact tracing or other needs. For visitors, the results are saved, but not linked to a person. Getting a "Go" result for the screening is step 1 to obtaining a physical or virtual "badge" to show proof that the whole screening process has been completed.
PopID
PopID is an expert in facial recognition. They use facial recognition to send payments to a business, ticketless entry into a venue and gain access into a building. Now they're using that power to make our workplaces safer. After the pre-screening process is completed, the user goes to the place of business and uses a PopID unit to recognize them and take their temperature. Facial recognition is usually used for employees and turned off for visitors, but that is configurable.
Step 2 of the screening process is getting your temperature taken on site. This is where PopID's PopEntry+ steps in.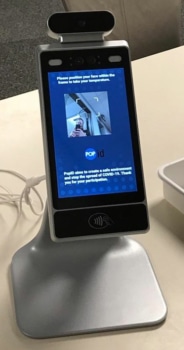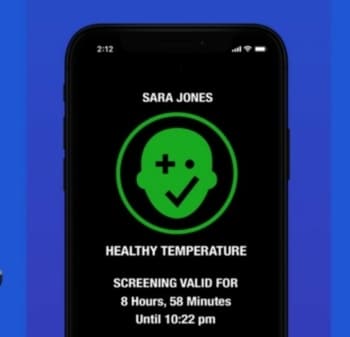 PopEntry+
PopEntry+ is an integrated thermal imaging system that features employee temperature verification. The CDC recommends daily health checks for the workplaces seeking to resume business operations. Using advanced facial recognition technology paired with a highly accurate thermal camera, POPEntry+ enables temperature screening of your employees, keeping your workplace safe and healthy.
Enables fully-automated temperature testing of the employees and guests.
Enables temperature testing without any hands touching the device.
Ensures humans do not need to get close to do temperature testing (like with hand thermometers)- Accuracy Distance: 2-3' ft.
Includes a customizable health screening questionnaires delivered to the device display.
Enables digitized and automated audit trail in the cloud for showing protocols are followed.
Works with masks and is spoof-proof.
Greatest accuracy with Infrared Thermal Imaging.
Notify individuals of their current status via PopID Mobile
Badge enables individuals to show others they've been recently temp screened.
Notifications for temp screening times and locations.
Alerts for testing results
The PopEntry+ device adheres to the CDC's official guidance for mitigation for COVID-19 — "temperature screening" of "staff entering buildings." Also, the EEOC updated its legal guidance that now expressly acknowledges "employers may measure employees' body temperature."
Once the person has their temperature checked, they also get a Go/No-Go decision. If everything is good to go, the person gets a badge printed or issued to their phone. Alerts can be generated for people with elevated temperatures. Again, all data is logged to InReality's platform for future reporting and helpful dashboards.
This is the story of two companies partnering to make returning to work safe for everyone.
The solution is scalable and can generate reports and dashboards more than any solution we've seen so far. As always KB is here to serve.
If you would like more information on the Safe Space solution, let us know how we can help.
https://kentonbrothers.com/wp-content/uploads/2020/12/Safe-Spaces-Story-featured.jpg
600
800
Neal Bellamy
https://kentonbrothers.com/wp-content/uploads/2022/04/125th-Anniversary-v1.png
Neal Bellamy
2021-01-13 06:00:50
2021-05-19 15:30:39
The Return-to-Work Wellness System