Keying Systems Part 1: Importance of Master Key Systems and Restricted Keyways
By Ryan Kaullen, Field Services Manager at Kenton Brothers
Keying Systems Series
Part 1: Importance of Master Key Systems and Restricted Keyways (this story)
Part 2: Restricted vs. Standard Keyways
Part 3: Peace of Mind with Keying Systems
Master Key Systems
In the world of access control, intrusion, and networked video surveillance, physical keying systems are still important for your facilities. At Kenton Brothers, we get questions all the time about reducing the number of keys for a building, establishing better physical key security, and managing authorized employees who can get keys made. That's when we explain the importance of a Master Key System.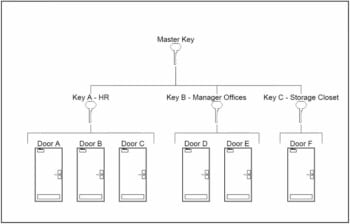 A Master Key System is a physical security system that uses a framework of keys to access a facility externally and internally. This system allows authorized people to have access to certain areas of the building while keeping unauthorized people out. All of this is determined by the facility manager or business owner.
Advantages of a Master Key System include but are not limited to:
Improved Security of the Facility – You design the system to give employees access to the doors they should be allowed to pass through. You can also set up lists of people who are allowed to get more keys made to stop unnecessary duplication.
Fewer Keys Needed – You can drastically reduce the number of keys your facility has by smartly keying doors to fit your security needs.
Customizable – Doors will be keyed to access levels, who needs access, and so forth.
Standardization of Facility Keying – Standardization is important because it allows you to set standards within your business for employees and managing their access.
Cost Effectiveness – There is an upfront cost determined by many factors including level of restriction, number of doors, number of keys, etc. But the long term gains are tremendous. If a door needs to be rekeyed, you know how that will support the master key system already in place. If a key is lost, you know the budget needed to fix the problem. If you add doors / locks, those can be added to the existing master key system. Implementing this properly allows the facility to keep people, property, and possessions safe.
Control – Implementing a Master Key System provides a complete understanding of how every door is keyed, who you gave keys to, who has access, what they have access to and so forth. If you decide to set your system up with a restricted keyway this provides even more control to your system.
Implementing a Master Key System
When considering a Master Key System, there are many steps to setting the system up properly. A site survey will be required to review existing hardware, key meetings are held to determine how the facility wants everything keyed. And then the site is rekeyed. The importance of these steps cannot be skipped or taken lightly… the security of the facility is in the balance.
Consider letting Kenton Brothers help you implement a Master Key System. We will secure your facility and bring key control back into your hands!
https://kentonbrothers.com/wp-content/uploads/2020/12/Master-Key-Systems-2020-12-24_11-19-03.jpg
639
1000
Ryan Kaullen
https://kentonbrothers.com/wp-content/uploads/2022/04/125th-Anniversary-v1.png
Ryan Kaullen
2021-01-20 06:00:51
2021-05-19 12:50:39
Keying Systems Part 1: Importance of Master Key Systems and Restricted Keyways