2022 Kenton Brothers Annual Christmas Party Recap
Photos courtesy of  David Strickland, Vice President of Kenton Brothers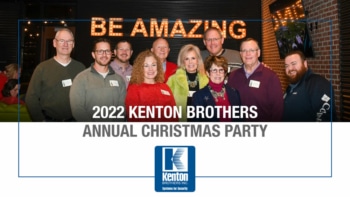 The holiday season is upon us! On December 3rd, Kenton Brothers celebrated the holidays with our annual Christmas party at Chicken N Pickle in Overland Park, KS.
We are so fortunate to not only have colleagues who are incredibly talented and hardworking, but we all also like spending time with each other!
The evening started off with games and appetizers. The buffalo dip was to die for! Pickleball, Foosball, Ping Pong and Shuffle Board were the games of choice. No one is quitting their day job to join the pro circuit, and no one sprained an ankle either. We'll call that a win, although, the Foosball table did get a little loud!
Next, dinner was served! We filled up on salad, mashed potatoes, chicken and brisket. YUM!
Later in the evening, we had our awards ceremony. The award winners are voted by their peers to take home a prize! Here at Kenton Brothers, we believe firmly that it's important to celebrate individuals who live the KB way, take pride in their work and go above and beyond to provide not only extraordinary service quality to our customers, but also to their teammates and partnerships alike.
Congratulations to this year's award winners!
The Lone Wolf Award – Highest Sales Year – Luke Bergin
The MVP Award – We wouldn't be KB without them! – Neal Bellamy
The Moving Mountains Award – Person who best exemplifies the KB Way – Kip Phillips
The Red Wire – The biggest "whoops" moment – Colby Ely
The MacGuyver Award – Finds a way to get it done! – Ryan McCourt
The "Give A Damn" Award – A three-way tie! – Krystal Hines, Alana Hanly and Mandy Taylor
The Clean Trucks Award – Cleanest Truck – Shawn Hamilton
The Pride Award – Jeremy Shinneman
We also conducted a raffle for all attendees and prizes were handed out as for that as well. To end the evening, we shared drinks, laughs, stories and… more ultra-competitive, top tier Foosball.
Special thank you to our KB Culture Club for planning, organizing and executing the event, we had a blast. Another special thank you to our owner, Gina Stuelke, for making sure we all had a wonderful KB Christmas celebration!