Kenton Brothers Holiday Party Recap!
By Neal Bellamy, IT Director at Kenton Brothers
As this year comes to a close, Kenton Brothers wishes you a Merry Christmas and a wonderful New Year!
The KB Family gathered again this year to continue the tradition of celebrating our successes as a team. And we thought it would be best to tell the story through pictures, so here we go!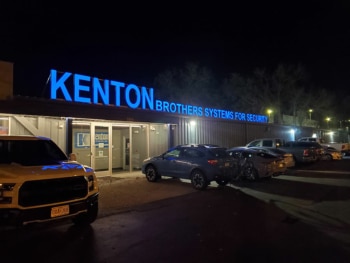 We started out with Stroud's Catering.
Stroud's catered and fried on site… extra delicious, hot and fantastic! If you are interested in Stroud's catering your next event, visit their website!
Music provided by DJ Shark Attack
Luke Simon of Columbia's DJ Shark Attack provided fantastic music for dancing!
Gina presented this year's McGyver Award to Don Brownback.
In 2015, we created an award to pay tribute to the KB security professional who has the tenacity and creative problem solving skills to get the job done while overcoming any adversity they may encounter. We compare this ability to the famous TV show and character from the 1980's, MacGyver, who could pretty much solve any predicament with some ingenuity and the use of a paper clip or multi-tool Swiss Army knife!
The definition of 'to MacGyver' something at KB is to fix something in a resourceful and improvisational way.
The 2021 prestigious 'MacGyver award' goes to Don Brownback. Congrats Don!
Games and More Games
After dinner we all hung out for intense Pickleball, death match Jinga, and not so intense mingling.
We hope 2021 has treated you well this year. Thank you for being a part of our story and our success! So enjoy a few more days of 2021 and let's get ready for 2022 together!
https://kentonbrothers.com/wp-content/uploads/2021/12/2021-KB-Holiday-Party-05.jpg
750
1000
Neal Bellamy
https://kentonbrothers.com/wp-content/uploads/2022/04/125th-Anniversary-v1.png
Neal Bellamy
2021-12-22 06:00:41
2021-12-22 12:47:44
Kenton Brothers Holiday Party Recap!