Kenton Brothers Ranks in Top 10 Law Enforcement Solution Providers
By Gina Stuelke, CEO of Kenton Brothers

GovCIO Outlook, a technology publication focused on IT and security trends, scouts the IT market for vendors who offer state of the art IT solutions for government agencies such as law enforcement and emergency management organizations. In December of 2021, Kenton Brothers Systems for Security was included among the Top 10 Companies that are at the forefront of providing law enforcement solutions and impacting the marketplace.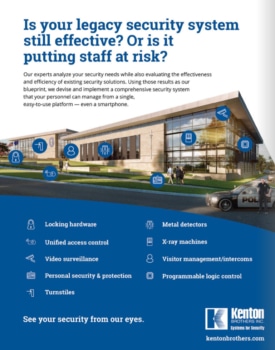 KB offers state of the art security solutions to address the security gaps in law enforcement, which is fraught with challenges caused by legacy security infrastructure—especially those found in detention centers, jails and correctional facilities.
To bridge the gap in security, Kenton Brothers first analyzes the client's security needs and evaluates the effectiveness of the existing systems. Then, with the assessment results and years of security experience, the KB team designs and implements a comprehensive, purpose built system that can be managed from a single, easy-to-use platform, significantly reducing the operations staff's workload. And because there are no longer multiple platforms or disparate infrastructure issues, the client experiences dramatically reduced installation and ongoing maintenance costs.
"When it comes to security, we understand that a cookie–cutter approach just does not work," says David Strickland, COO, Kenton Brothers. "By thoroughly understanding our client's requirements and goals, we craft solutions that are unique and fit for purpose."
Interested in reading the digital version of the GovCIO Outlook magazine?
Kenton Brothers Systems for Security…protecting people, property and possessions since 1897.
Let us help you be All Secure.
https://kentonbrothers.com/wp-content/uploads/2022/01/2022-01-26_15-21-21.png
602
769
Gina Stuelke
https://kentonbrothers.com/wp-content/uploads/2022/04/125th-Anniversary-v1.png
Gina Stuelke
2022-02-02 06:00:32
2022-01-26 15:39:37
Kenton Brothers Ranks in Top 10 Law Enforcement Solution Providers