Cobalt Robotics Offers Return to Work Solutions
By David Strickland, Vice President of Kenton Brothers
From risk mitigation conversations to return to work strategies, one thing is for certain – The Covid-19 Pandemic has changed the way we do business.
The pandemic has introduced a whole new set of rules and threats to an organization:
How do I keep my assets protected while not exposing my team to infection?
How do I safely integrate team members back into the workspace?
What is my new business continuity plan look like with lessons learned over the last 5 months?
The "new normal" requires a long term strategy. There are complex considerations and Safety and Security Robots should be a part of that conversation.
Kenton Brothers Systems for Security offers the Cobalt Robotics Solution to help support these long term strategies. Along with the 60 sensors that Cobalt Robotics deploys in its usual role of safety and security robotics, it now offers a complete Covid-19 response solution. This solution delivers weekly reports that allow you to understand and drive behavioral change.
Along with traditional access control and commercial video surveillance solutions we offer, the Cobalt Robotics solution can conduct temperature screenings with a built-in thermal camera, utilize machine learning models to identify face coverings and other forms of PPE, and apply computer vision technology to monitor for social distancing.
Temperature Screening Capabilities
Cobalt's system combines a high-end FLIR camera with a thermal black body to screen your employees, guests, and visitors for elevated skin temperatures with accuracy within 1° F. Unlike other solutions, the Cobalt solution captures temperature readings from tear ducts, the most reliable proxy for internal body temperature. Our unique design guides individuals through the proper screening steps without further exposing them to the spread of COVID-19.
The Cobalt Robotics solution integrates with your existing protocols and performs within the constraints of your privacy policies.
Mask, PPE and Social Distancing Alerting
On patrol, Cobalt robots can detect mask and PPE compliance and either alert immediately or report at the end of the day all alert instances depending on the direction from the customer. Cobalt robots also have the ability to monitor the work environment for social distancing and either alert immediately or report at the end of the day.
Ready to Roll?
If you're ready to learn more about the solutions offered by Kenton Brothers Systems for Security and Cobalt Robotics, let us know. We can deploy within 7 days! Please call us to set up a demo.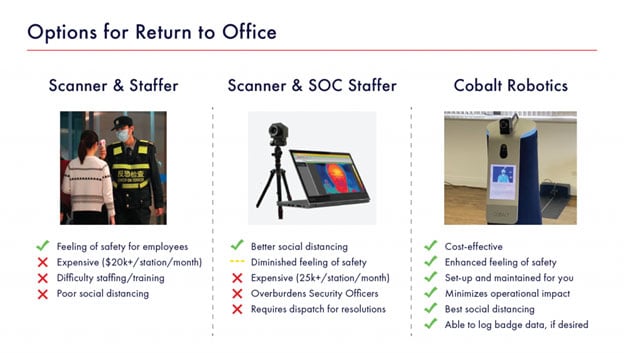 https://kentonbrothers.com/wp-content/uploads/2020/09/Cobalt-Robotics-Back-to-Work-02web.jpg
600
800
David Strickland
https://kentonbrothers.com/wp-content/uploads/2022/04/125th-Anniversary-v1.png
David Strickland
2020-10-07 06:00:04
2021-05-19 15:33:50
Cobalt Robotics Offers Return to Work Solutions