By Neal Bellamy, IT Director at Kenton Brothers
Part 1 – Do we eat our own cooking? How the experts approach physical security.
How does a security integrator design their own security systems?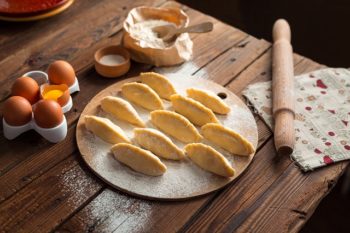 Most people are familiar with the phrase, "Do you eat your own cooking?" This is a casual way to ask a company if they implement the same products and services they're selling their customers in their own business.
I think that most companies do a far better job of providing their services to their customers better than they do for themselves for lots of reasons. But the most common reason is that they're too busy doing a great job for their customers. They just don't have time, because the customer comes first… right?
Over the next couple of months, we have the opportunity to do it differently. Since we are moving into a new office, we can design our systems from the ground up. It's an opportunity to showcase what's possible in a real world application. Today, we're going to be looking at an intrusion system, also known as a burglar alarm.

Our new space is a much larger building. (Yay!) We will sublease space to at least one tenant, but maybe more. There are office, warehouse and common spaces with lots of windows and overhead doors.
The main challenges we need to address are:
How do we keep the tenant space operating like it has its own system and provide for future expansion
How do we protect the different areas of the building?
How do we do it as cost effectively as possible?
The first issue can be solved by many different alarm manufactures, most of the larger systems have a feature called areas, or partitions.
Areas allow a keypad and related sensors to act as a self contained alarm system. It's also possible to have a "Common" area that disarms with the first related area and arms with the last related area. Honeywell provides a good explanation of a common area here (PDF). We will have multiple areas defined that can monitor our own space, the tenant space and any common space that's shared. We just need to make sure that the panel we choose will have enough partitions for future expansion.
Next on the list to tackle is how to protect the different areas.
We will certainly need to place door contacts on all the doors into the various spaces, but the type of contact and how they're wired is important as well. To maintain the aesthetics of the personnel doors, we'll use recessed contacts that are only visible when a door is open. They also come in different colors to closely match the color of the door frame.
We can help protect damage of the overhead door contacts by providing rail mount door contacts, which keep the contact higher and out of the way. One example is an interlogix 2300 series. Motion detectors come in all shapes and sizes, but using a motion detector with multiple technologies keeps the false alarms at a minimum. Bosch, for instance, has a whole line of Tri-tech motion sensors. We'll also use glass break detectors for the larger glass areas. Glass break detectors provide more reliability than motion detectors alone.
Just as important as the sensors that we use, is how they're wired.
Most alarm panels supervise the detectors that are connected to it. This supervision circuit monitors the wire that is connected by adding a small resistor to the end of the wire. If the resistor can be measured, all is good, if the resistor is missing, or the wire is not connected at all, it will send an alarm. No method is foolproof, but it adds another layer of security to the alarm system and will alert us if a wire is damaged before we find out the hard way.
As with any system that we design and install, we want the best bang for our buck.
We want to maintain the sensor quality because it would be worthless to have multiple false alarms or to miss an important event. However, there are good ways to save money on an installation.
One way is to wire efficiently. Traditional or smaller alarm panels need to have a separate wire from the sensor to the alarm panel or input module. However, several systems allow loops of wire to be installed with many sensors on each loop. Since the new facility is much larger, having loops will save over 1,000 feet of wire and the labor to install it.
Older and smaller panels also used to require a POTS (Plain old telephone system) line to report to the monitoring stations. Not only is the reporting slower, but who has a telephone line anymore? We will use the IP network to communicate with a central station and pocket the $20 – $30 month that a phone line would have cost.
Last, while not a cost-saving measure, but something we will get for free by choosing the right system, is integration with access control. Since the Access control system and intrusion system are on the network, they can talk to each other. With integration, we can see the status of the areas through the access control system, we can turn off the alarm through the access control system when they enter the building, and we can prevent access control from unlocking side doors when the alarm is armed. All of the integration is designed to give more visibility into the system and to reduce false alarms in the intrusion system.
We're all excited about the new building. Some are excited about more space, some are excited about fresh paint, but I'm excited to showcase our capabilities and to redesign the security systems from the ground up. Next month, we'll talk about the network layout that all the systems use as a foundation and a the video system design.
https://kentonbrothers.com/wp-content/uploads/2018/02/cooking-2132874_640.jpg
426
640
Neal Bellamy
https://kentonbrothers.com/wp-content/uploads/2020/08/2020-KB-logo.png
Neal Bellamy
2018-03-07 06:00:46
2020-03-22 16:03:53
Do we eat our own cooking? How the experts approach physical security. (Part One)