By David Strickland, Vice President of Kenton Brothers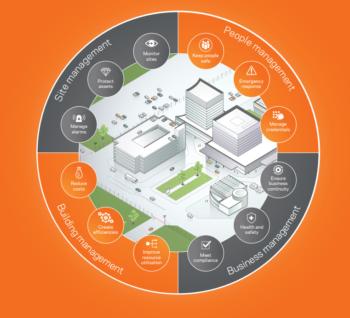 Wouldn't it be incredible if you could manage your whole company or organization, including multiple sites, from one pane of glass? Wouldn't it be awesome if you had one system to monitor security systems, alarms, building controls, power usage, employee certifications, risk compliance, regulatory inspections, vehicle maintenance, safety standards, attendance and visitor management? Well you can!
The Kenton Brothers Advantage Program
Kenton Brothers, as a part of its KB Advantage Program, can help companies, universities, school districts, municipalities, utilities and health care facilities reduce risk, increase job satisfaction, support compliance, and lower energy bills.
Imagine for a moment a true to life scenario using currently available technology.
Jenna is a high school teacher and likes to get to work early to start her day off right. As Jenna uses her smartphone to badge into the staff member parking lot or the employee entrance, the system goes to work turning on the power to her room, turning on her phone, adjusting the temperature in her room the the preset level. The system reminds Jenna that her teacher certification expires in 49 days and needs three more continuing education credits to be certified.
The system also sends her a message that there is a fire drill later that day.
The lighting to her classroom illuminates until she is inside her classroom, then switches off behind her.
This scenario is repeated multiple times throughout the morning, helping the system utilize only the power and resources necessary. Saving energy, helping to insure compliance and improving team member satisfaction.
Later that day, the fire drill starts and she's alerted on her phone where to go. She and her students arrive safely at the muster point and she is able to check herself and her classroom in as safe and accounted for.
This is a true to life scenario that's currently in place and can be integrated in your organization.
Kenton Brothers Systems for Security integrates Gallagher Access Control with the following systems in your organization:
Human Resources
The Gallagher Command Centre integrates through active directory to your Human Resource database. It can manage which team members have the correct certifications to operate specialized machinery, have passed all safety or certification requirements, or whose licensing is about to expire.
Facilities management
In a cost-driven and energy-conscious business environment, you need to have confidence that your building management services are running correctly and not consuming power and resources when they aren't required.
High-level communication between Command Centre and building management systems using the BACnet protocol provide opportunities for significant cost and energy savings. BACnet is a data communication protocol for building automation and control networks. It's the national standard in over 30 countries, including the United States and Europe, and an International Organization for Standardization (ISO) global standards.
How can this help?
Create a central repository for all alarm management to monitor and control your HVAC (heating, ventilation, and air conditioning) and other business management systems through Command Centre.
Visibility of all services on site at all times ensures rapid response capability.
Integration with building management systems improves monitoring and reduces operational expenditure.
Integration with resource booking systems identifies when a room is not in use and turns off lights, air conditioning and heating and locks the door.
Only people with the correct access privileges can activate services.
BACnet devices can trigger alarms within Command Centre to keep you fully informed of operations on your site, providing time to discover faults before they become more difficult and expensive to fix. For example: generator faults; high and low temperature zone alarm; chiller failure; filtration pressure alarm; fuel control system overflow, underfill or failure alarms; and general mechanical fault alarms.
Kenton Brothers Systems for security offer a free security assessment to explore this solution. Give us a call today!
https://kentonbrothers.com/wp-content/uploads/2021/06/image004.png
691
761
David Strickland
https://kentonbrothers.com/wp-content/uploads/2022/04/125th-Anniversary-v1.png
David Strickland
2021-06-23 14:09:31
2021-07-13 12:06:43
Save millions with your Access Control program? Here's how.