Radio Towers? Yes, We Do That
By Neal Bellamy, IT Director at Kenton Brothers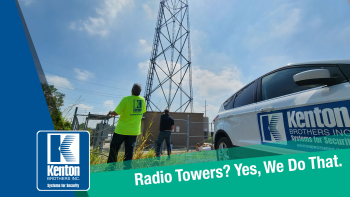 In today's episode of "Yes, we can do that", I bring you Radio Towers. It's not the first time we have placed equipment on towers, but this time I have pictures!
The Problem:
A municipality approached us with two issues they wanted to solve.
First, they wanted cameras installed in strategic spots around their city, but did not have any network infrastructure to get the signal back to the police station. Second, they wanted to create a security perimeter around the radio tower itself. There was some extra credit available if we could get some long-distance cameras mounted on the tower as well.
The Solution:
We wanted a high bandwidth link between the tower and the police station. We know that the city may add cameras later and the likely point of communication will go through the tower. Maximizing the link from the tower to the police station will future-proof the installation.
We chose Ubiquiti Air Fiber as that link. It is less likely to be affected by interference and provides a theoretical 1 Gigabit connection.
For the cameras in strategic locations, we wanted to provide flexibility in where the cameras and radios will be placed. We know that they will want to add cameras later and time will change the requirements for where the cameras are needed.
For these radios, we chose Ubiquiti AirMax Rocket Prism 5AC with a 120-degree sector antenna. The large angle allows the radio to be moved around as needed. Since we had two locations that were not within 120 degrees of each other, we needed two of these radios covering 240 degrees total.
The camera choice was simple: Axis Q6135-LE cameras fit the bill easily. With 32x optical zoom, the city will be able to see almost anywhere within several miles of the tower. These Pan-Tilt-Zoom cameras (PTZs) also have excellent low-light visibility. They wanted 360-degree coverage from the tower, so two cameras were needed.
To be clear, I don't mind heights. But 175 feet in the air is above my limits and pay grade, so we hired a professional. Enter Kasper. Kasper's Business Kaap Kom focuses on communication and radio towers. He came recommended to us by a current client. (After spending all day with him, I couldn't recommend him enough.)
The Result:
Kasper did all of the scary work with us as his ground crew. It took seven hours to mount all the equipment, install the cables, and carefully align the radios. There were some hiccups along the way, but our team was able to get past each one and successfully deliver the desired result.
We ended up with over 750 Mbps link back to the police station and 350 Mbps for both remote links. The wireless connection can support around 100 cameras spread throughout the city wherever they are needed. The two PTZs can see details for miles. All in all, it was a mission accomplished and another great project. Radio Towers? Yes, we do that too.
Need help with your commercial security requirements? Just give us a call.
https://kentonbrothers.com/wp-content/uploads/2023/08/KB-Radio-Towers-Featured.jpg
1080
1920
Neal Bellamy
https://kentonbrothers.com/wp-content/uploads/2022/04/125th-Anniversary-v1.png
Neal Bellamy
2023-09-20 06:00:09
2023-08-23 14:22:47
Radio Towers? Yes, We Do That