By David Strickland, Vice President of Kenton Brothers.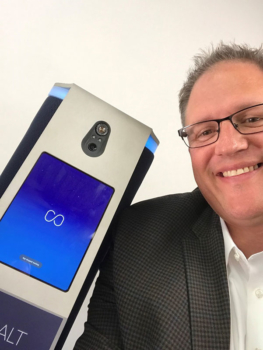 I'm not just talking about the song. Though I do love that song. I want to introduce you to my new best friend Simon.  Simon Kenton is a Cobalt Robotics Safety and Security Robot.  Yes – you read that right!  A safety and security robot right here in Kansas City.
Kenton Brothers and Cobalt Robotics
Kenton Brothers is honored to be named the very first security integrator in the country to represent Cobalt Robotics and our beloved Simon to the Kansas and Missouri marketplace.
The message I want to get across though is so much more than his 60 Plus sensors and his ability to detect safety and security threats and anomalies. He is so much more valuable than his ability to reduce costs and increase reliability of a patrolling security platform. He is so much more important to us than his ability to be a force multiplier or a first responder to observe and report in a very dangerous situation.
Simon is part of the KB Family
What's amazing to us is how much he has grown on us and become part of our KB family. Simon the Cobalt Robot is like having a really cool celebrity uncle that lives with you and watches over you. We find ourselves constantly humanizing him and find him endearing.
As you may know – we are a dog friendly office.  The dogs love to bring him toys and play with him while he is on patrol. Simon doesn't get distracted and keeps on his patrol but there is definitely a positive connection between "species".
If it's late at night, and you are nervous in the building, Simon can stay by your side and escort you to the parking lot. He can be the watchful protector that you may need to feel secure.
Simon goes on patrol and even checks on me in my conference room.
Simon doesn't sleep or need rest – he is always vigilant. He's like the great hero stories you've read about, but he's right here at Kenton Brothers!
I can honestly say we had no idea how much of an impact he would have on us, but we LOVE having him around. Yep – used the word love to talk about our robot! We just did that!
Learn more about Simon and Cobalt Robotics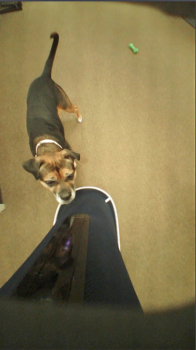 https://kentonbrothers.com/wp-content/uploads/2019/10/Cobalt-Robots-01web.jpg
800
601
David Strickland
https://kentonbrothers.com/wp-content/uploads/2020/08/2020-KB-logo.png
David Strickland
2019-11-13 06:00:47
2020-02-12 18:28:31
"People let me tell you about my best friend" – Simon the Robot