Dirty Domes Done Dirt Cheap.
Security System Maintenance that Rocks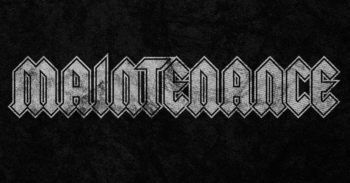 Not working is not an option when protecting your people, property, and possessions. We know – deep in our souls – that a security system must be maintained properly if we expect it to work correctly. We know it intuitively. But if that's the case, why is it that too often commercial security pros neglect their systems? It's human nature.
We expect the planning and installation phases of a security system to take time and resources. Too often, we mistakenly think the work ends with a completed project. The critical post-installation support is what protects the original investment and keeps the system running well for years to come.
What kind of things do we see on a regular basis when we're inspecting and protecting the commercial security systems we install and support? Dirty domes may be done dirt cheap, but some of these examples trash the hotel room like rock stars.
Here's an all access backstage tour: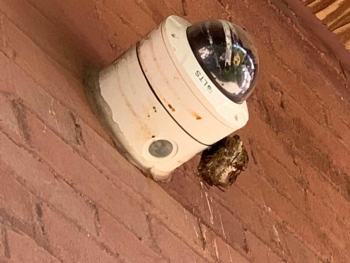 A wasp nest isn't just a hassle for the tech cleaning this dome. It's also a visual impairment that can keep a camera's focus off of trouble spots.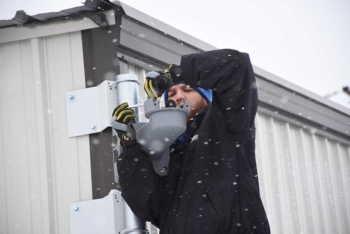 Rain or shine, maintenance is required to keep your commercial security cameras working properly.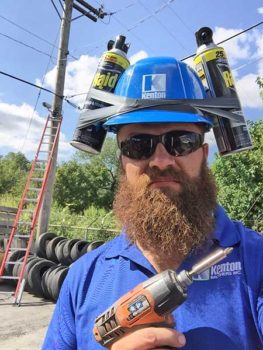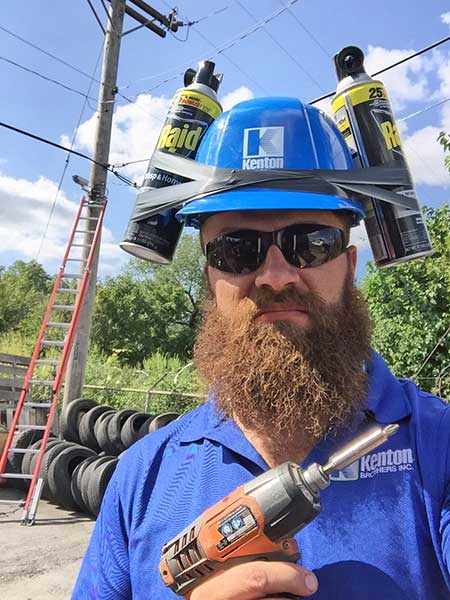 Sometimes, we have to defend against wasp nests… with creative solutions. Just ask Jeremy.
So why do we need to stay vigilant with preventative maintenance?
The answers are simple, but they deserve an encore.
Even the best technology can fail.
As these components become more technologically advanced, it's critical that systems are maintained properly. The primary goal of our service agreement is to keep your system functioning while reducing or eliminating downtime. That means software and firmware updates are completed to protect against found vulnerabilities before they're exploited, not after. Plus, when firmware is updated, new features are often added that add value to your entire corporate security system.
Preventative maintenance is critical to safety.
Many organizational stakeholders view the preventative maintenance budget line as an expense that can be reduced. Maybe even eliminated. But when maintenance, upgrades, and testing are neglected, the cost to repair and replace key components can be significantly more than the original line item – and may cost lives.
A maintenance service agreement that fits your unique circumstances can be the difference between a well-planned system that functions properly and one that lets you down when you need it most. At Kenton Brothers Systems for Security, we want to offer our clients the kind of white glove service that leaves their systems in peak condition, ready to serve at a moment's notice and in all conditions. To make sure your maintenance agreement is right for your needs and your system is concert ready, let's talk.
https://kentonbrothers.com/wp-content/uploads/2019/10/Dirty-Domes-Maintenance-webfeatured.jpg
600
800
Kenton Brothers
https://kentonbrothers.com/wp-content/uploads/2022/04/125th-Anniversary-v1.png
Kenton Brothers
2019-11-20 06:00:08
2020-12-10 13:41:41
Dirty Domes Done Dirt Cheap.