By Kristen Harper, Controller and HR Manager at Kenton Brothers, talks about our recent hire, Ryan Nance.

Ryan Nance is one of Kenton Brothers' newest additions. He is a Systems Administrator and Lead Project Coordinator. Ryan has several years of experience in the security industry and enjoys the challenges of working with new equipment and products.
I asked Ryan how he was able to jump into our fast paced environment and hit the ground running so successfully. He attributes a lot of his skills and discipline to his participation in the Boy Scouts.
Eagle Scout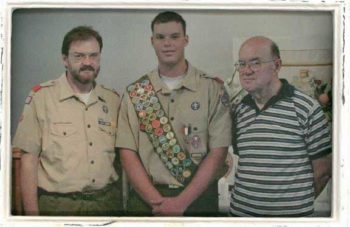 Ryan joined the Boy Scouts when he was in 2nd grade. He stayed with the program as an active participant until his senior year in high school. Ryan ultimately achieved the highest honor from the organization by becoming a heavily decorated Eagle Scout. He earned twice the amount of badges required for this commendation.
Being Prepared
Ryan was taught through Boy Scouts and Eagle Scouts to "Be Prepared" for anything he encounters. That fits very well with the culture here at Kenton Brothers.
Being prepared is crucial. The work we do for our clients involves many vendors, different physical environments and constantly changing technologies. Being prepared allows us to achieve the best results in the work we do… protecting people, property and possessions.
One of Ryan's favorite challenges recently has been installing Mercury M5 Bridges. These bridges give us the ability to migrate our clients from legacy systems to new access control systems, while keeping their existing enclosures, wiring, power and readers.
Ryan enjoys being dad to his 5 year old son. That's where most of his free times goes… spending time with family. On rare occasions, he also gets to enjoy his time at the local shooting range.
We're so happy to welcome Ryan to our team!
https://kentonbrothers.com/wp-content/uploads/2017/08/Kenton-Brothers-Ryan-Nance-web.jpg
373
576
Kristen Harper
https://kentonbrothers.com/wp-content/uploads/2017/10/Kenton-Brothers-Logo.jpg
Kristen Harper
2017-09-07 14:57:56
2018-02-07 09:25:02
The Eagle Has Landed: Kenton Brothers Welcomes Eagle Scout Ryan Nance