By Kristen Harper, Controller and HR Manager at Kenton Brothers, talks about our recent hire, Ryan Nance.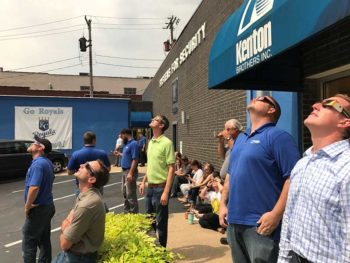 The Kenton Brothers team gathered together to enjoy the memorable 2017 Eclipse in style! We had lots of sun and moon themed tasty treats to keep everyone well hydrated and energized. We took some time out of the day to share in the once in "our" lifetime opportunity in downtown Kansas City.
The excitement kicked off at approximately 11:45am on Monday, August 21st. That's when the first sign of the moon intersecting the sun began. We all rushed to our parking lot and opened our newly purchased, approved for our safety, eclipse glasses. That first peek was exciting.
We then decided to enjoy some tasty grilled burgers and Sun chips for lunch. We had homemade Moon pies (made by our very own Rusty Braxdale and Kassie Lyons) for dessert. Yum.
At 12:45pm, the team took to the parking lot for the official countdown. Many of us took photos while enjoying a little background music featuring "Total Eclipse of the Heart." We waited excitedly for 1:08pm to come so that we could experience a total eclipse. There were a few scary moments when clouds came in just seconds before the full eclipse. At the last possible minute, it happened. Twenty-five seconds of total eclipse! The KB team erupted with cheers and clapping along with other people in the downtown area. It was a beautiful, rarely to be seen again site.
What were you doing on Eclipse Day 2017? We hope you had an amazing experience!
https://kentonbrothers.com/wp-content/uploads/2017/08/Kenton-Brothers-Eclipse-Watching-Party-2017-03web.jpg
600
800
Kristen Harper
https://kentonbrothers.com/wp-content/uploads/2017/10/Kenton-Brothers-Logo.jpg
Kristen Harper
2017-08-23 14:54:12
2018-02-07 10:18:09
Here's What The Solar Eclipse Looked Like from Downtown Kansas City.