Three Security Trends for 2022 – Blurring of Cyber and Physical Security
By Gina Stuelke, CEO of Kenton Brothers
The lines are blurring between cyber and physical security. Here are three important trends we are seeing in the commercial security space for 2022.
1) Organizations will invest in new commercial access control systems and video analytics solutions that are more integrated.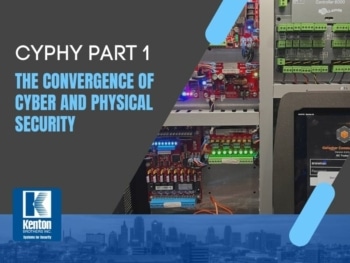 During the pandemic, many businesses had to get creative in managing new health and safety mandates. Controlling social distancing was critical. To adhere to health mandates, retailers, corporate offices, and others needed to know how many people were in their facilities at any given point. This has generated huge demand for occupancy management solutions.
While most are using this technology to count people entering and exiting a building, organizations will continue expanding this technology across all areas of their facilities.
These spatial analytics are helping businesses unlock insights about how people use their facilities. Long after the pandemic is over, they can extract data to learn:
How many people are waiting in the lobby
How many people are in the cafeteria
How specific spaces are being used over time
This data then becomes the catalyst for building improvements that enhance the visitor, employee, or tenant experience.
Implementing video analytics within camera systems can further strengthen site security and delivers more insights. From people counting and directional flow to object left behind and crossline detection, analytics are giving security teams a clearer picture of what's happening in their environments. Analytics also allowed remote teams to stay on top of threats while securing near-empty facilities during the pandemic. Beyond safety objectives, organizations are using analytics data to reduce wait times, optimize staff scheduling and enhance business operations.
Corporate offices are also finding ways to best optimize their workplaces as they give employees the flexibility to split up their work time between the office and home. This space utilization intelligence helps them better track employee office attendance, monitor meeting room demands and make more informed floor plan changes such as adding more desk-sharing options.
All of this leads to higher operational efficiencies, effective resource management and cost savings.
2) Cybercrime will continue to grow and inspire new strategies.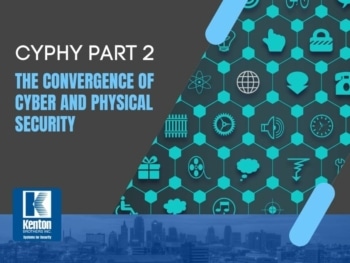 In today's world, while we can harden and tighten the physical security of a facility, a truly secure IT perimeter no longer exists. Physical security professionals are collaborating with cyber security teams to put measures in place to deter hackers and protect their businesses.  Choosing trusted vendors and deploying physical security solutions that come with layers of cyber defenses are critical. It's a layered and collaborative approach.
A report by Cybersecurity Ventures predicts that global crime costs will reach $10.5 trillion annually by 2025. With a growth rate of 15% per year, this is said to represent the greatest transfer of economic wealth in history.
As we continue to see more devices come online (at the rate of 17 per hour) and data processing becomes central to operations, businesses will need to remain agile and responsive to the evolving threat landscape. Businesses will also need to offer greater transparency to meet customer expectations of keeping their data private and secure. All of this will bring in a new model for physical and cybersecurity that relies on continuous verification rather than just hardening networks and systems.
3) More organizations will make the move to the Cloud and embrace a hybrid model.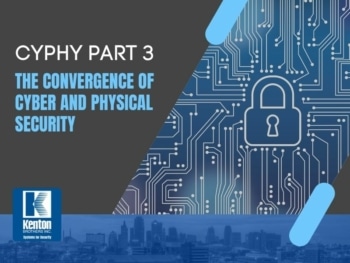 The pandemic is largely responsible for the surging demand for the Cloud. As online usage and remote work spiked, there's been a global shift to accelerate digital transformation.
According to a report titled Predictions 2021 by Forrester, global public cloud infrastructure was predicted to grow 35% to a market value of $120 billion in 2021. To thrive in the long run, physical security professionals will need to determine how to best leverage cloud technology and offerings in the years ahead. More chief security officers will let go of the division between cloud and on-premises physical security systems and embrace a hybrid deployment model. This allows them to implement specific systems or applications in the cloud while keeping existing on-premises systems.
This hybrid approach can also be the simplest answer when deciding how to enhance scalability, redundancy, and availability to meet changing needs. Beyond that, cloud offerings provide tons of added value. Physical security teams can quickly migrate to newer technologies, minimize hardware footprint, boost cybersecurity and reduce costs.
It's an exciting time in the security industry!
Innovation and continuous improvement are happening every day in the commercial security industry, both core values of KB! Let us be your commercial security partner and we will help you navigate these changes!
https://kentonbrothers.com/wp-content/uploads/2022/05/3-Trends-CyPhy-Featured.jpg
675
1200
Gina Stuelke
https://kentonbrothers.com/wp-content/uploads/2022/04/125th-Anniversary-v1.png
Gina Stuelke
2022-06-08 06:00:21
2022-05-27 17:00:16
Three Security Trends for 2022 – Blurring of Cyber and Physical Security